Electricians are one of the most important people in society. Nearly all homes and commercial entities rely on electricity and that is why good electricians are always in high demand. So, do you want to become a great electrician but you don't know where to start? If yes, then today you are in the right place. In this article, we will give you tips on how to become a great electrician.
Make sure you are passionate about this career
If you want to become a good electrician, then you have to be passionate about this job. The reason why many people don't make good electricians is that they are not passionate. The only reason why they become electricians is because of the good pay. If you want to become an electrician because of good pay, then chances are that you will not become a great electrician.
However, if you are passionate about this profession, then you will go above and beyond to ensure that you give your best. Great electricians are not motivated by money, they are motivated by passion. The last thing you want is to spend years pursuing a career, only to find out later that you don't enjoy doing your job. So, the first thing to becoming a great electrician is having a genuine passion for the job.
The training that you get will also determine whether you will become a great electrician or not. Multiple training institutions offer training for aspiring electricians. However, some training institutions are known to offer better training to their students than others. If you want to become a good electrician, then you need to learn from the best training institution. This means that you have to be very careful when choosing a college to study in.
Before you make your final decision on a particular college, research extensively to know if they have the right resources to equip you with the training that you require to become a great electrician.
You can also work as an apprentice in a local electric service providing company.
Practice! Practice! Practice
As they say, practice makes perfect. If you want to become a good electrician then you need to keep on learning. Technology and people's demand keep changing fast. The only way to stay on top of the game is by learning, practicing, and adapting quickly to new industry changes. The more you practice the more you will perfect your skills. Don't just sit comfortably and hope you will be a good electrician just because you went to the best training college or because you were at the top of your class.
You need to practice regularly in order to perfect your skills. The secret to becoming a good electrician is to never stop learning. This way, you will be able to stay on top of any changes that occur with local electrical standards and key trends.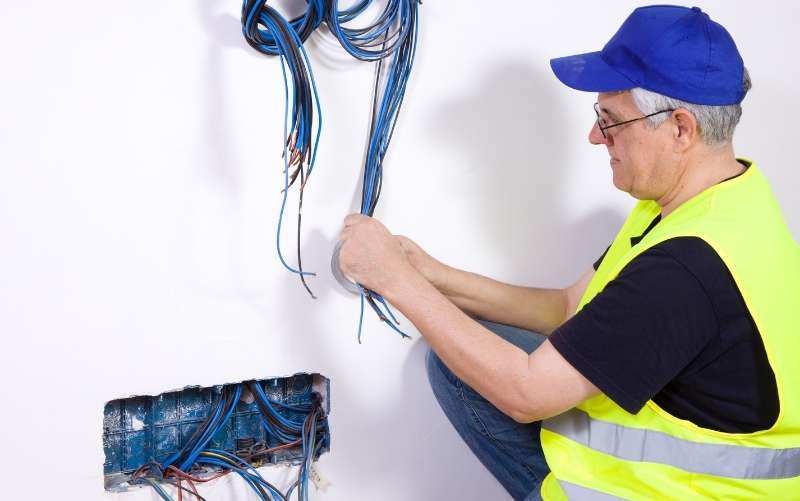 Work on your communication skills
Whether you plan to work as an independent contractor or within an established organization, your communication skills will determine whether you will become a great electrician or not. Electricians often work with other professionals, including contractors, architects, engineers, managers, and more. Therefore, it is crucial to be able to communicate your ideas and plan effectively. This means that you need to have great communication skills. 
You also need to know how to write your ideas and thoughts clearly. Remember that if your colleagues or customers misunderstand you, then you may put them in danger because they may end up making a mistake that may cost them their life. So, ensure make sure you work on your communication skills.
As an electrician, you understand the importance of time management. Whether it's scheduling appointments or completing projects on time, proper time management is key to a successful business. With so much on your plate, it can be difficult to know where to start. Here are a few tips to help you get started.
  Create a daily schedule and stick to it
  Set deadlines for yourself and your clients
  Delegate tasks whenever possible
Make use of technology (calendars, task lists, etc.)
Break down large tasks into smaller ones
Take breaks when needed (but not too often!)
Stay organized! By following these
Get your electrician's license from the county you live in
To be a good electrician you must get a electrician's licence from the county you live in. It is a certificate that you know the work. It also gives confident to your potential clients who would take electric service from you in the near future.
It is really very important for an electrician to be a team player. A successful project demands team play from an electrician's team. One person can never do all the things even if he knows. 
As an electrician, you have to be able to work with a team and know how to communicate properly with other workers. This will help keep the project on track and ensure that everyone is safe while working. In addition, good teamwork skills will also make the job go more smoothly and less stressful for everyone involved. So if you're thinking about becoming an electrician, make sure that you have strong teamwork skills!
To be a good electrician, it's important to have the know-how and necessary accreditation. If you're interested in becoming certified as an electrician, contact your local community college or technical institute for more information on their programs. 
You can also find online courses that provide training so you can get started right away with what you need to do before applying for certification exams. Electricians are responsible not only for troubleshooting electrical problems but also maintaining current standards of safety and compliance within the industry by keeping up-to-date on any changes made by regulatory authorities. For those considering this career path–or already established in it!–we hope these tips help illuminate some steps toward success!